High Speed, Multi-Site, Data Connectivity
Connecting into a resilient multi-core network, managed centrally by Spitfire, MPLS WAN private data networks bring the benefits of simplicity, control and significant cost savings for your business.  As the data circuits connect into a central 'cloud' rather than to a specific site, the network is more flexible & resilient than using site-to-site leased lines or VPNs, which require expensive routers and configuration. Our MPLS private data network can also provide 'on-net' access to customer data centres, Amazon Web Services, Microsoft Azure and other Spitfire managed network services.
MPLS WAN Private Data Networks
Fully managed & secure private network

Wide choice of circuit connectivity options

Centrally managed Internet breakout available

Converged network ideal for voice traffic and other business critical applications

24/7 Support

Multi-node resilient core network backed by performance SLAs

Direct access to Microsoft Azure or Amazon Web Services with CloudConnect

Highly scalable network – easily add or remove sites or circuits

Connect to customer data centres
WHAT IS MPLS AND HOW DOES IT WORK?
Multi Protocol Label Switching (MPLS) is a network protocol used in high performance wide area data networks.  It marks the data packets with virtual labels, which are then used to move the data from one network node to another.  This provides an extremely efficient and secure method of routing data on a private customer network protected from the Internet. 
MPLS removes the need for local router configuration and the subsequent encryption which is required for secure transmission of data over the Internet for example when using Virtual Private Networks.
In an MPLS network the forwarding decision is based on the label rather than the full IP address look up, making for a fast and efficient multi-site data networking solution.
MPLS is a centrally managed and configured solution, with very high levels of security whilst at the same time reducing the overall cost of ownership.  As there is no complex configuration required on the customer router this removes the need for expensive equipment and ongoing complex IT management at each site.
WHO WOULD USE MPLS AND WHY?
Businesses…
…still using legacy connectivity services such as point to point leased lines and looking for a more efficient, cost effective and scalable performance solution.
…currently using Virtual Private Networks over the public Internet but now looking to provide greater control of data applications with network Service Level Agreements and Quality of Service only available on a secure privately networked solution.
…looking to run multi-media services and converge voice and data on to a single network with assurances that this sensitive data traffic will be given priority end to end, to ensure call quality.
…looking for a secure private network at a realistic price point.
…looking to use centrally provided application resources e.g. CRM, file sharing, etc with no drop in performance.
…looking to move applications and services to the Cloud e.g. Amazon Web Services or Microsoft Azure and require a secure dedicated connection.
WHY ORDER FROM SPITFIRE?
As a leading Internet Service Provider we are able to offer a wide range of data connectivity options from ADSL broadband through to Fibre Ethernet depending on each site's budget, uptime requirement, application capacity, prioritisation etc.
Built in conjunction with our multi-node resilient core network, it enables us to provide industry leading performance SLAs and Quality of Service options which are fully integrated with Spitfire's voice SIP trunks and Hosted Telephony, providing a single supplier unified communications solution.
We manage the whole process from initial design to final delivery, with ongoing support for fault and performance management provided.
We can design a solution which provides geographically diverse core node termination for each site – offering unsurpassed business continuity options at market leading prices, leaving our customers safe in the knowledge that keeping their business connected is our number one priority.
KEY POINTS …
Fully managed

High network availability

Resilient 'self-healing' core network

Performance SLAs for data packet delivery

Application prioritisation across private network

Connect sites using multiple data circuit types

Scalable bandwidth provides high degree of future proofing

Centrally managed solution

Increased use of Unified Communications and other collaborative applications

Connect to remote data centres

Connect 'on-net' directly to AWS and MS Azure
HOW MUCH DOES IT COST?
From just £5 per month per circuit added in to the network.
There is a common misconception that designing and building an MPLS Wide Area Network is an expensive process, however this couldn't be further from the truth.
Spitfire can easily configure any circuit type that we supply into a MPLS network providing the customer with a private WAN solution (PWAN) with complete flexibility on the choice of circuit connectivity from each site.
With low set up and configuration charges of just £50 per circuit and then a monthly rental of £5 for broadband and £10 for Ethernet circuits it really is a cost effective networking solution.
Internet breakout can also be provided from the network, along with options to connect directly in to Amazon Web Services, Microsoft Azure or other data centres around the UK.
THE DIFFERENCE BETWEEN MPLS & SD-WAN ...
The key difference between MPLS WAN and SD-WAN is that the latter will typically deliver traffic over the Internet.  If your company has a lot of mission critical real time applications (e.g. telephone calls, video conferencing or remote desktop) then this may introduce delays and packet loss, which will cause significant problems with this type of traffic.
SD-WAN
Uses WAN Virtulisation

Often uses multiple ISPs and carrier circuits to create a virtual WAN which is then centrally managed by the SD-WAN software application.

Easy to manage bandwidth allocation for different applications, however as normally traverses the Internet the packet loss will typically be higher than 1%, making it potentially unsuitable for voice or other real time applications where delivered as a standalone SD-WAN and not over the top of e.g. an MPLS network.

Although QoS control may be offered on the SD-WAN control software, it is impossible to provide this across the underlying network when delivered over the Internet.

SLAs are often provided but only for the core part of the provider's network and not the underlying circuits.
MPLS
Reliable packet delivery i.e. best for real-time applications – closed network therefore doesn't traverse the Internet and ensures quality. Packet loss is less than 0.01% on the Spitfire core network, with end-to-end SLAs provided when using Spitfire Ethernet circuits.

Network security through isolation

Centrally managed site-to-site connectivity

Quality of Service
MPLS from Spitfire is quick to set up.  Once you have a data circuit installed from Spitfire we can then very easily add it in to the MPLS.
What about sites or users that sit outside of the MPLS network?  Doesn't that make MPLS far less flexible than SD-WAN?  Not so, we can easily incorporate these sites and users by providing access in to the network using IPSec-VPN tunnels.  When creating an SD-WAN, virtual network tunnels are created from sites and users to the central software application in a similar way.
If I go for an MPLS WAN solution, doesn't that mean that I'm locked in to my ISP?  I've heard that with SD-WAN I can use any ISP?  Whilst it is true that any data circuit can be used with an SD-WAN, many solutions lock you in to an on-site proprietary device, software and control planes.  Typically there is an ongoing monthly charging structure to ensure access to controlling software or alternatively large upfront charges for SD-WAN controllers and specialised on-site equipment.
MPLS networks on the other hand are able to use low cost standard routers, with all the configuration taking place on a centralised device.  This allows router hardware to be re-used elsewhere if required.
Many current SD-WAN vendors are US based and state boldly that SD-WAN is far cheaper than MPLS WAN. However generally they are referring to US companies that have WANs comprised of MPLS circuits between geographically dispersed states. There are 11 US states that are bigger than the whole of the UK! A circuit from San Francisco to New York is the same distance as a circuit from London to Baghdad!!
Working from home doesn't necessarily mean you have to compromise on the quality of your communications.  Our range of hosted phone systems and business connectivity can help improve your home working experience.
This diagram shows an example network with different IP data access circuit types at each site as well as central Internet breakout which all sites can access. The MPLS cloud allows all sites to link to each other in a full mesh with a single large consolidated connection to the Internet which reduces the overall cost of Internet bandwidth, whilst improving reliability, speed and management control.
This service also includes a VPN concentrator to allow secure VPN access from staff who aren't directly connected to the MPLS network – so home or mobile workers can also easily and securely access your network.
Data Circuit Connectivity Options
Spitfire are a UK leading provider of business internet circuits. Using four different wholesale carrier networks to provide local connectivity to your site, we are able to select a circuit to provide the most competitive price, the shortest lead time, or network redundancy level required.

The wholesale suppliers we use include BT Wholesale, Virgin Media Business, Colt and Talk Talk Business, which enables us to offer any appropriate option.
Providing a fast, low latency, secure private connection to Microsoft Azure and Amazon Web Services.
Spitfire FWaaS provides a fully managed, Unified Threat Managed service to secure your network perimeter.
Converged Ethernet, VoIP and SIP Trunks
Spitfire have extensive experience in VoIP technologies and are one of the UK's leading providers of SIP Trunks. Using your Ethernet Leased Line as a combined voice and data circuit to replace or supplement your ISDN30e offers cost savings of over 50%, as well as offering greater flexibility and Disaster Recovery benefits. Our experience with SIP and QoS allows us to ensure you get the most from your service, while using a single provider for your connectivity and voice services.
"The level of technical competence is very high and the account management is really good. The account management team we
deal with is superb."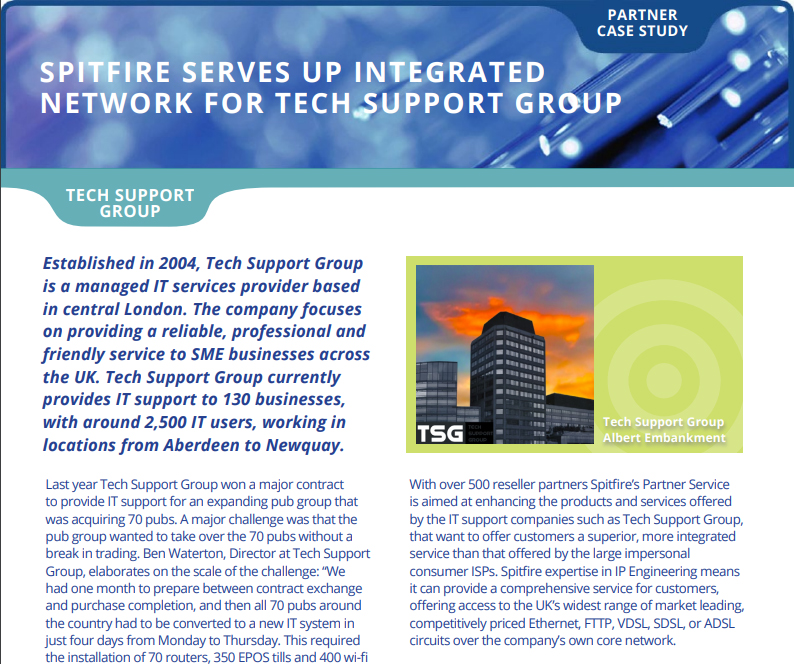 Established in 2004, Tech Support Group is a managed IT services provider based in central London.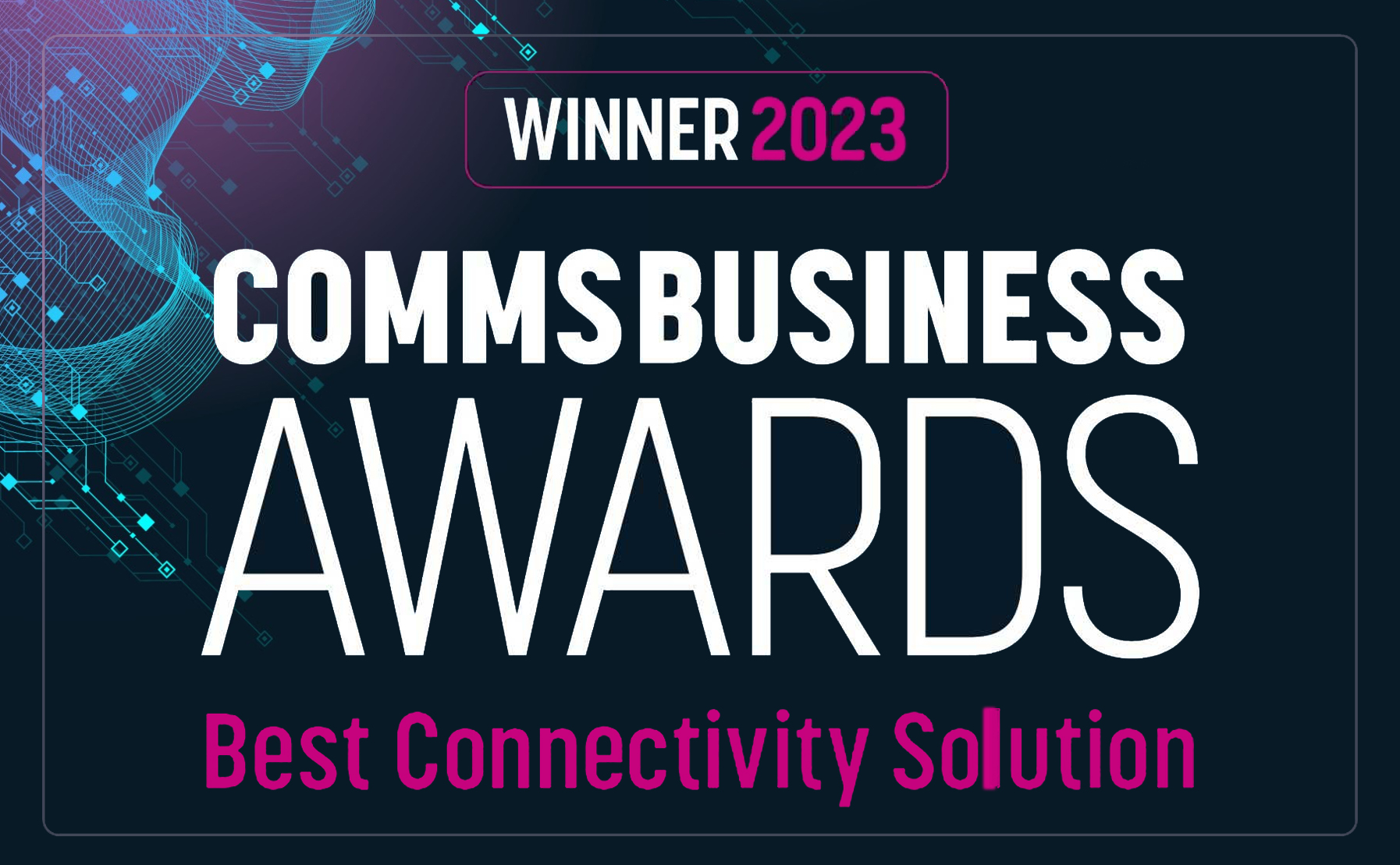 Weaver birds live in colonies of hundreds of intricate nests and each possesses their own unique construction strategy.
Tailor made MPLS solutions from Spitfire connecting multiple offices, homeworkers and the Cloud.
Weaver birds live in colonies of hundreds of intricate nests and each possesses their own unique construction strategy.
Tailor made MPLS solutions from Spitfire connecting multiple offices, homeworkers and the Cloud.
Weaver birds live in colonies of hundreds of intricate nests and each possesses their own unique construction strategy.
Tailor made MPLS solutions from Spitfire connecting multiple offices, homeworkers and the Cloud.
The information submitted on this form will be used solely for the purpose of responding to your enquiry.  A copy of our Privacy Policy may be found here
The information submitted on this form will be used solely for the purpose of responding to your enquiry.  A copy of our Privacy Policy may be found here