Managing Director, Harry Bowlby's Interview with Raconteur in The Times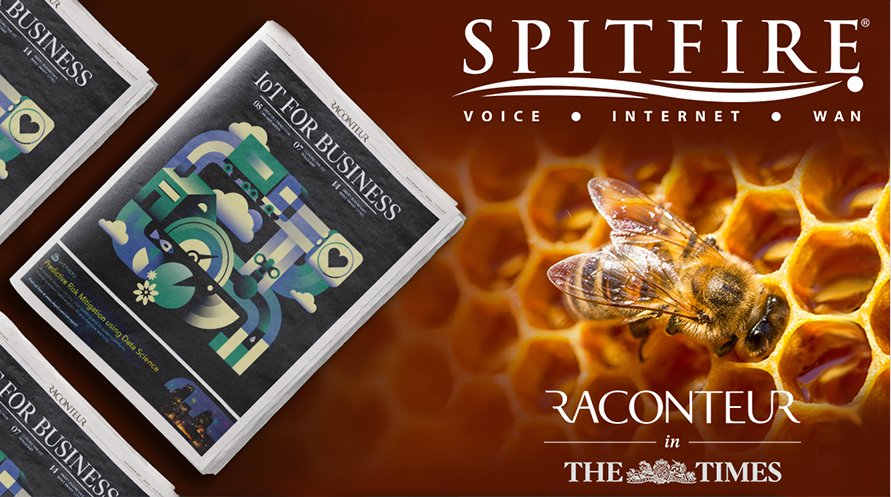 What does Spitfire do?
Spitfire is a medium-sized telecoms company and internet service provider. We specialise
in connectivity for small and medium-sized businesses. The company was founded in 1988 and I joined in 1993. We now provide telecommunications services to approximately 6,000 small and medium-sized businesses. We have recently been granted an industry award for the excellence of our network.          An expanding field of interest to us is the internet of things (loT). If you wish to implement an loT application, we can help to connect it all together over a fixed and mobile network.
What distinguishes the requirements of an loT network?
An loT application is generally made of up loT devices, and possibly an loT gateway, in the field
that either relay information about the local environment or do something to change it, and an loT platform or loT application server that process the data and provide an interface to application users. The networking requirements of the latter are similar to any core IT function and those of the former highly application specific.
How diverse are the requirements of loT device connectivity?
Very. loT drives new demands with regards connectivity. They may now be mobile, have power limitations, they may even be embedded in concrete or expected to last for years without any maintenance. Consider a Devon red deer farm. The farmer wants to attach a geolocation device with a collar to each deer, but how does the device communicate back to the loT platform?  The best solution might  be a LoRaWAN ® with a base station/aerial on a local high point and an loT gateway and 4G router that communicates with the local mobile mast nearby. Alternatively, a water meter a foot below the road surface outside the farmer's house down in the valley might benefit from a narrowband-loT transmitter that communicates with the same mobile mast now several miles away.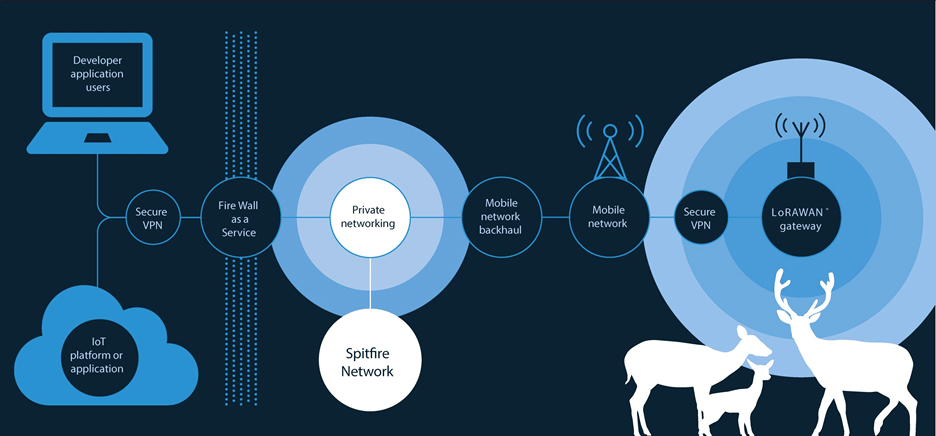 Why is a holistic view of the customer's local and wide area network important to a successful loT application implementation?
An loT application should be one specialised aspect of the customer's overall networking infrastructure. As well as devices on site, the loT platform and loT application may be situated in the telecoms service provider network, on-premise in the customer comms room or in the cloud. The users accessing the loT platform or application may be in the office, at home or travelling in the field.  The solution must consider the required band width, quality of service and security from end to end. A secure virtual private network, or VPN, encrypts data to ensure it cannot be eavesdropped.
Suppose a prospective client gets in touch, what happens next?
We will talk to them about their business and the IT applications they use. Then we discuss the networking requirements of those applications. These may differ considerably, for example a telephone call requires low bandwidth, but good quality of service; a data back-up, high bandwidth and adequate quality of service. Then we design an overall network solution that meets those requirements. Our methodology is called customer applications network needs, or CANN. It is particularly useful when considering loT applications because the ecosystem is much broader than that of typical business software applications, with a far greater diversity of application networking requirements and the solutions available.
What can loT users get wrong?
A lot.  We see companies using 4G consumer SIMs in devices. It's a simple way to connect something and may work OK, but can also have a lot of shortcomings. The mobile operator will allocate a dynamic IP address and any communication must be initiated by the loT device. Consequently, management of the loT device will be limited as will security. The loT device cannot be part of a private network. The user may be on an inappropriate commercial package.
What's the solution?
A business grade 4G SIM might be. This should provide a fixed IP address for enhanced access, management and security. The loT device can communicate directly with the loT platform or application server. Alternatively, the loT device can be made part of an MPLS (multi-proto col label switching) or private network managed by the service provider. The SIMs may even be "ruggedised" to with stand a more hostile environment.
When would 2G or narrowband-loT be more appropriate?
This is an excellent solution for low-bandwidth applications that in particular only need to transmit data on an occasional basis over a long distance or from a location with poor mobile reception. It's also really great at penetrating through walls and other structures, where4G and especially SG may struggle. A good example is a smart water meter located below ground outside a residential dwelling.
Why use a LoRaWAN ®?
A LoRaWAN® provides a low­ power wide area network that network that can cover 10kms or more in rural areas. The WAN can then be connected to an loT gateway providing a single connection to the mobile operator using a 4G SIM which may help control costs, provide lower power consumption and better transmission capability for each individual loT device. LoRaWAN®s have been used for applications as diverse as tracking reindeer and agricultural water consumption. They might also be very useful on a building site.
Is wireless always the best solution?
No. There are times when we advise customers to connect their devices to a standard Cat 5e Ethernet cable and data switch as they would in an office. A common solution in factories or warehouses is to connect devices with Cat 5e to an loT gateway, which in turn may be connected to a broadband, Ethernet or 4G router. A very good example of this solution is a building management system that can be incorporated into the office LAN.
I have an loT project, can I callyou and your team at Spitfire?
We'd love to hear from you. We are telecoms experts and can help you no matter what your problem, simple or complex.